JOSHUA TREE + PALM SPRINGS
I tend to romanticize
warm climates...
There's something about desert landscapes and tropical oasis' that make me completely melt...literally.
After announcing that we were headed to Joshua Tree and Palm Springs for my belated birthday trip, everyone told us we were crazy. Traveling to the desert in the summer what were we thinking. . .but when your instagram rental crush has an opening, you take it!
Dot and I had both been to Palm Springs before , but Joshua Tree was a first for us! I thrive best in warm climates, though my sister Dot unfortunately (to me) does not. Luckily she is a sport and humored me for my birthday! Bringing along some friends from Huntington Beach, we were able to snag a few days' stay at the Joshua Tree House. This desert home is pure instagram eye candy! We spent time exploring the grounds, (so thankful for the snake fencing, coming from Maui I am a bit terrified of them) lounging about the gorgeously decorated space, and cooking away in the cutest kitchen!
We arose before dawn one morning to hike Ryan Mountain in Joshua Tree National Park. The sunrise at the top was one of the most INCREDIBLE sunrises we have ever experienced, definitely worth the early AM wake up call. The view of the Park transports you into a scene from an old Western film, with giant boulders and desert plants as far as the eye can see.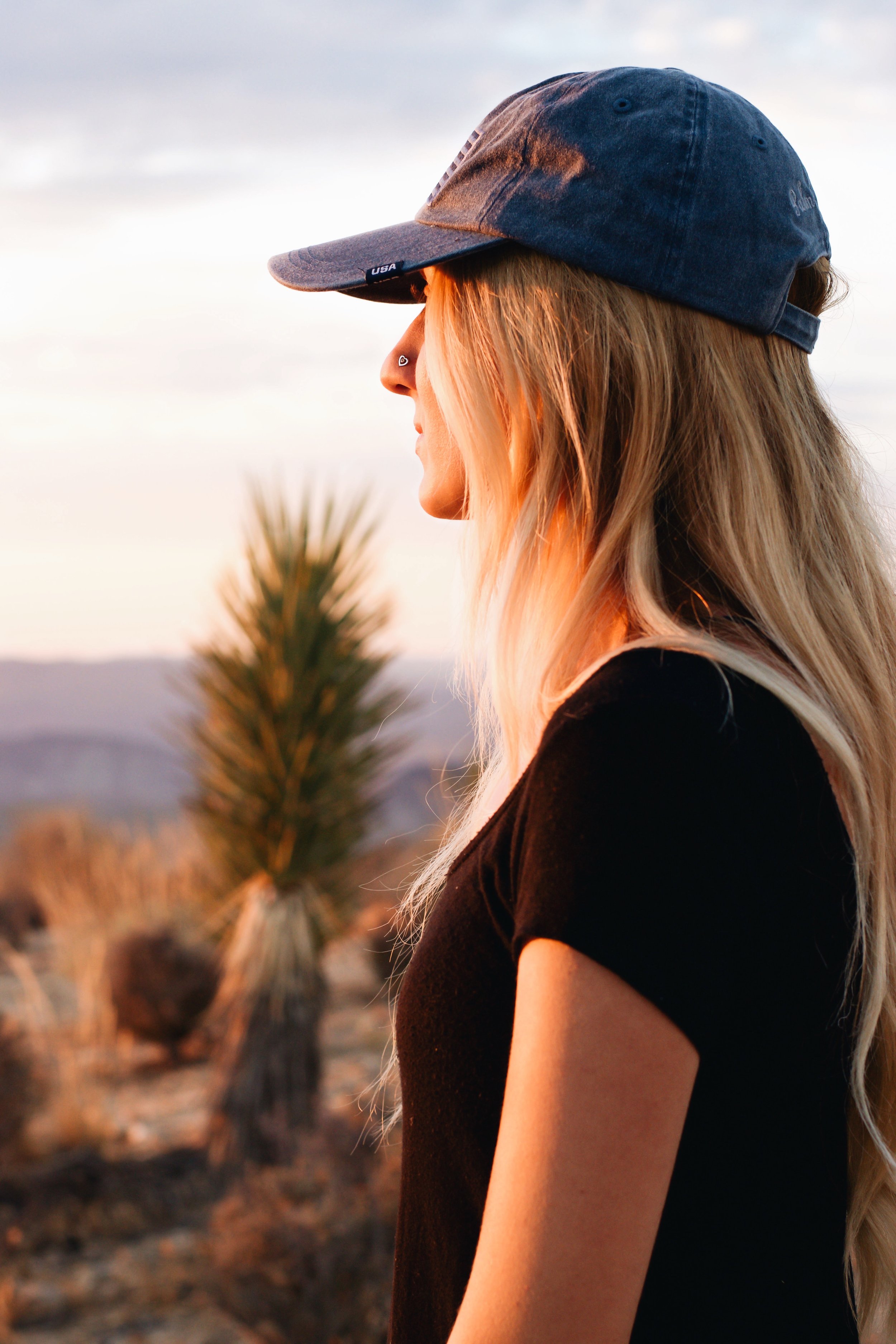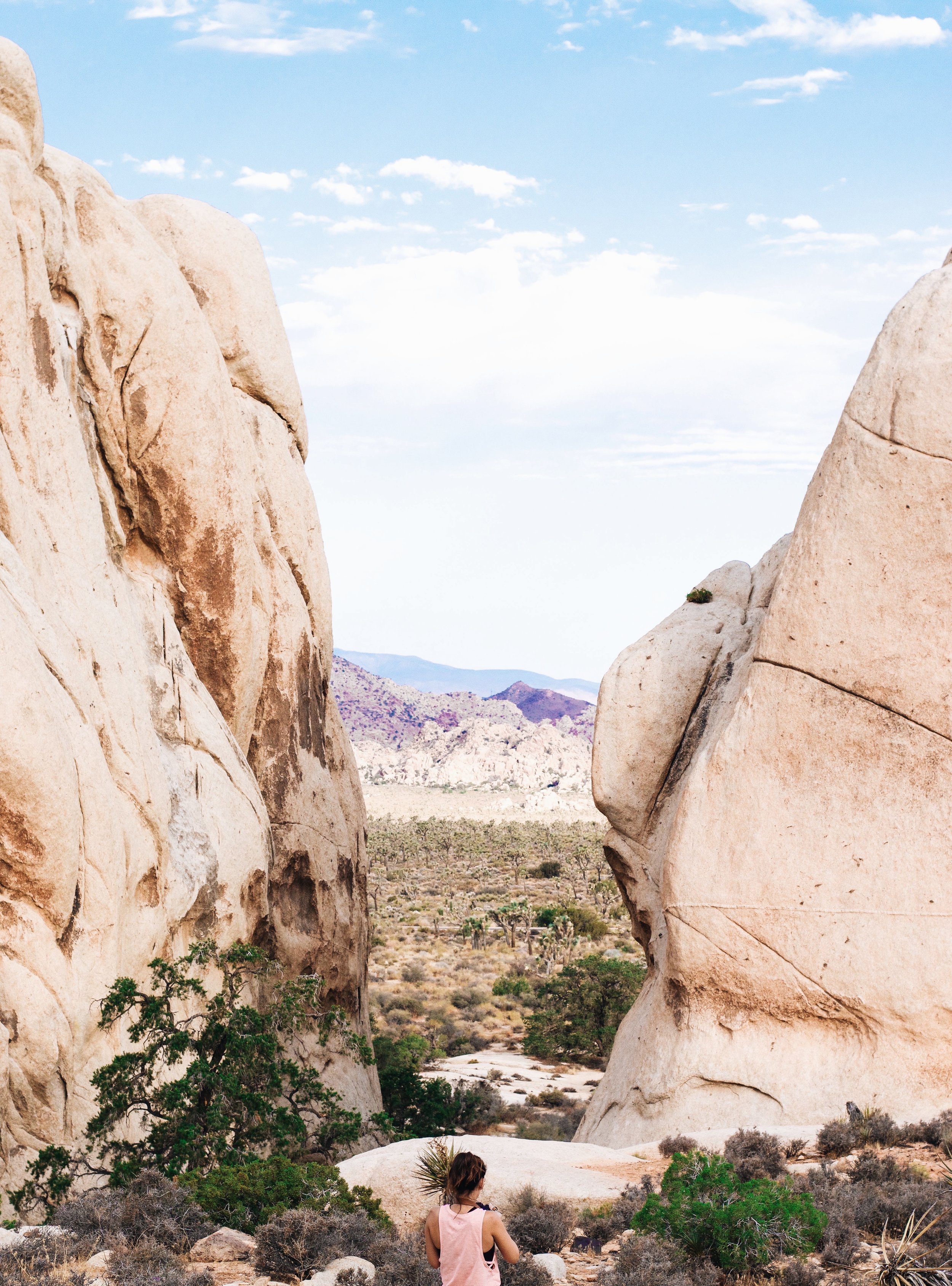 After tolerable heat in Joshua Tree we made our way over to our next stop, Palm Springs! Although only a few miles away, the temperature increased considerably as did my romantic desert dreams. We pulled up to our home for the next few days, the Korakia Pensione, and I must say this place is a GEM! It has been on my bucket list for awhile and it was just as amazing as I imagined it to be. The grounds have a private oasis feel boasting Mediterranean and Moroccan themed villas. We chose a quaint Mediterranean suite which opened onto a private outdoor lounge area. There were so many personal touches which added to our stay. Breakfast was served daily in an enchanting courtyard. Cool towels, popsicles, and iced cold water were brought poolside often to keep us comfortable. Every part of the Korakia is photo worthy, even Officially Quigley was there doing a shoot while we lounged by the pool. Each night a different old movie was played while hundreds of candles and lanterns were lit all around the property, it was magical!
Once our stay at the perfect Korakia came to an end, we headed back up to LA to fulfill another California dream, visiting the Griffith Observatory! We both have been dying to go to the Griffith Observatory (space nerds) but all of our California trips leading up to this have been sidetracked. We made a quick pitstop for lunch at the most AMAZING vegan restaurant, Cafe Gratitude (when I say quick pitstop, I mean we drove all across downtown LA just to find out that one of their cafe locations was closed due to filming and we had to turn around and drive across downtown LA again all the while about to pee our pants - but it was well worth it!) With a menu to die for, it was hard to choose just one meal. If I lived in California, you would find me here for every meal, it was THAT amazing.
We finally made it to the Griffith Observatory after years of attempting to go. I always imagined driving up like James Dean in Rebel Without a Cause, or dancing my way through the observatory like I was in a scene from Lala Land. When we arrived I was caught off guard by the bus loads of flowing tourists. We had to park ages away and walk up the 'hill' in record LA heat. Once we arrived, I have to say, I was pretty disappointed. I could blame it on the heat, or the massive crowds of people..but lets be honest, I was mainly disappointed that James Dean wasn't at the top waiting for me. Guess it means I need to go back and re-do my Griffith experience! ;)
Until next time!
Pepper
Our favorite spots from our Southern California Trip!